About The Park

Located to the west of Highworth the park is bounded on the south by the old railway line (disused), on the east and north by Pentylands Lane and on the west (separated by a field) by Bydemill Brook.
It is overlooked from the north by Crouch Hill and from the south by the cemetery on the Cricklade Road.
The park comprises of a series of five fields. Originally summer grazing land, it is now available for everyone to enjoy.
To see our list of coming event please click here.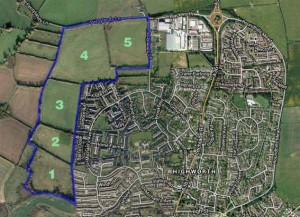 The extent of the country park is outlined and the fields marked from 1 to 5 for ease of reference.
Great Western Community forest has carried out a number of tree plantings, particularly in fields 4 and 5.
Skylarks nest in the fields. Goldfinches, Linnets and Fieldfare are frequent visitors. There are dozens of birds to be seen and heard.
Look for the Kestrels in fields 2 and 3. At dawn or dusk you may see the Barn Owls hunting. You will see and hear Greater Spotted Woodpeckers or catch a glimpse of Green Woodpeckers as they flit from hedgerow to hedgerow laughing at you as they go.
From late April listen for the Cuckoo, many hear it but few see it.
Throughout the year there is a diversity of wildlife, trees and flowers, spectacular sunsets and wonderful views. To the north, the Cotswold Hills and to the west, Fairford and beyond.
DOWNLOADABLE PLANT AND ANIMAL LISTS
Why not take a copy with you on your walk and see what you can discover?